Remote Controlled Roller Blind 2m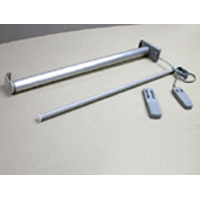 You've automated your lighting, security, and entertainment systems, but if you're still getting up and crossing the room to close your blinds, you haven't truly discovered the ease and pleasure of home automation. By installing this motorised blind roller, you'll enjoy privacy with the press of a button. Adding blinds to windows has numerous advantages, including energy savings resulting from your air-conditioning system not needing to work as hard.
Features:

Remote and timer controlled motorised blinds help to enhance your lifestyle, comfort and security.
Freedom to create the perfect ambience with just a simple touch of the remote control.
Motorised shades provide privacy at the press of a button.
Wall mounted and wireless remote control.
Available for windows up to 2m wide.
Perfect for windows in hard-to-reach areas, such as skylights, high windows, and windows behind bathtubs etc.
Motorised shades won't clash with your décor.
The tubular motors are powered via the included 12V transformer.

 
Adding motor control to window coverings helps your blinds and shades last longer as the rollers eliminate the manual pulling and tugging and thus reduce the associated wear and tear. With the included remote, you'll be able to open, close or partially close shades with the press of a button. So whether you're seeking relief from the late-afternoon sun, closing the blinds at night or need some darkness during the day in order to watch a movie, then the RB1 is for you!
How Does it Work?
The remote-control blind roller has a built-in IR (Infra-Red) receiver. Using the included remote, you'll be able to command your blinds to open, close, or stop at any spot in between. The remote control can operate up to 8 separate RB1 units without interference.
Technical Note:
The RB1 is limited to load of 3kg, please ensure that the weight of your blinds falls within this limit.