ebode Universal Remote Control - 6in1 IR/RF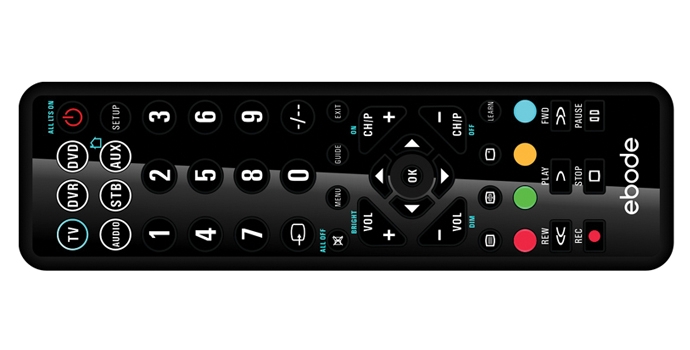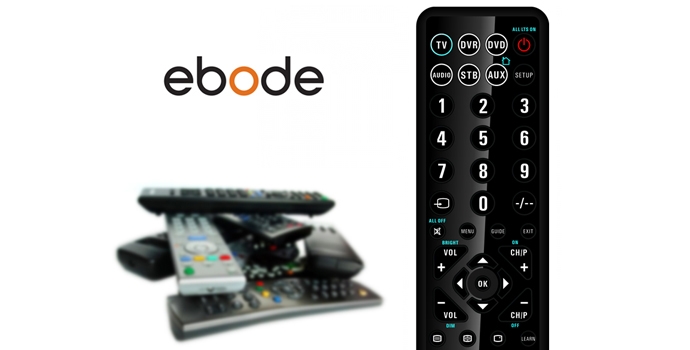 Product code: TAKE6IR-RF

Product brochure

Product manual

Image pack
The modern ebode TAKE 6 IR/RF universal remote control is designed to control up to 6 audio visual devices: TV, DVR, DVD, STB, AUDIO, or any other device (including Foxtel/Austar) under the AUX mode key. It works with present and future equipment as it contains an extensive pre-programmed code library and features IR learning capability.
With the easy to use 'Macro' function, you can switch all devices to the desired setting with just one press of a button. Sturdy, light-weight and modern design that is nicely balanced so it no only looks good, it feels great to hold and use.
The ebode TAKE6 IR/RF Universal Remote Control features built-in wireless RF (radio-frequency) functionality. When combined with any the ebode Powermid Pro products, you will be able to use your ebode TAKE6 IR/RF remote from any room in your home - or even through closed cabinet doors.
Get rid of the clutter and replace up to 6 remote controls with the ebode TAKE 6 IR/RF Universal Remote Control.